About Us
Welcome to the About Us section of the website. Here you can learn how VCU-ACE works to improve services to those with ASD through discovery and implementation of evidence-based practices.
The VCU Autism Center for Excellence (VCU-ACE) is a university-based technical assistance, professional development, and educational research center for Autism Spectrum Disorder in the Commonwealth of Virginia. VCU-ACE is dedicated to improving services to individuals with autism spectrum disorder and to the implementation of evidence-based practices in schools and the community. Our mission is to build state-wide capacity to improve outcomes of individuals with ASD by improving the knowledge, skills and understanding of families, educators, and professionals who support someone with a spectrum disorder. VCU-ACE is funded by the Virginia Department of Education (VDOE) and the Department of Behavioral Health and Developmental Services (DBHDS).
VCU-ACE believes in the right for persons with ASD to achieve their full potential and to live self-directed, fulfilling lives. VCU-ACE strives to accomplish this through four activities: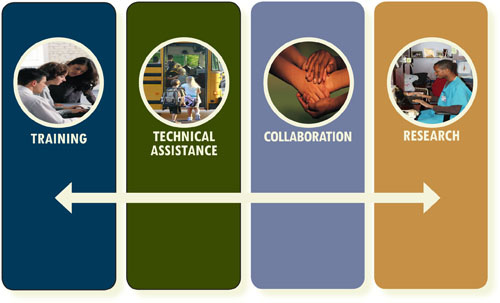 Training - Our Training increases knowledge and understanding of ASD and interventions.
Technical Assistance - Our Technical Assistance promotes the implementation of best practice in school divisions.
Collaboration - Our Collaboration helps provide a comprehensive array of services and supports by working with stakeholders who share our mission and passion.
Research - Our Research helps identify effective practices for individuals with ASD.