It's that time of year!! As students across the Commonwealth head back to school, don't forget that VCU-ACE is here to help! We offer a host of professional development activities online and free of charge! Whether you are an administrator looking for staff training options or an individual wanting to add tools to your toolbag, check out what VCU-ACE has to offer! Please share this information with your colleagues and administrators! Here's to an exciting and productive 2011-2012 school year!
Here are Just a Few of our Online Training Resources... Check them Out!
Registration is Now Open for our Online Courses, "Foundations of ASD" and "Educating Students with ASD"
"Foundations of Autism Spectrum Disorder" is a four week course, designed to provide participants with an understanding of the primary and secondary characteristics of ASD, sensory processing differences, comorbid disabilities, learning styles, and more. It is excellent for anyone interested in learning more about autism spectrum disorders, including parents, family members, educators, therapists, service providers, and medical professionals. The next offering of this course runs from November 14 to December 9.
"Educating Students with Autism Spectrum Disorder" is a ten week course, designed to provide teachers, related service providers, paraprofessionals, administrators, families, and other service providers skills and knowledge needed to support students with an ASD in the school setting. Participants will be provided information on the development and implementation of IEP's, educational modifications and accommodation, and evidence based strategies for academic and behavioral support, such as environmental modifications, visual supports, reinforcement, prompting, shaping, chaining, and task analysis. The next offering of this course runs from October 10 to December 19.
Both courses are free to citizens of the Commonwealth, but enrollment is limited, so register now!
The Fall 2011 VCU-ACE Webcast Series is Announced!
Our monthly one-hour webcasts, featuring experts in a variety of topics, continue this fall with a new lineup! Webcasts are streamed live the second Tuesday of each month from 3:30-4:30pm. Topics include diagnosis, eligibility, assistive technology, and applied behavior analysis in the classroom. Check out the Upcoming Webcasts page for more information.

Interested in hearing a previous webcast? All webcasts are archived here and available at any time, free of charge on our website.

Don't Forget about our Online Seminars!
We are building our library of online seminars to share! Currently, seminars on Characteristics of Autism Spectrum Disorders, Characteristics of Asperger's Syndrome, Environmental Structure, Visual Supports, and Schedules are available. Extension Activities for individuals or groups to apply the concepts to real life scenarios are included. Check out our Online Seminars webpage for more information.
An Update from the Division-Wide Technical Assistance Teams
The Technical Assistance arm of ACE certainly did not rest this summer! There was lots to do in regards to helping Autism Services Improvement Teams finish their Service Improvement Plans and finalize division-wide goals. Many of the Technical Assistance Associates collaborated with their division leaders and conducted two day customized workshops. The topics included: evidence based practices, goal attainment scaling, the coaching model, fidelity assessments, etc. Division staff were able to choose their target audience plus design the content around the participants needs.
In addition, the division-wide teams are hosting various forms of subcommittees or focus groups in efforts to accomplish their division's goals. The participating teams are working on: training on evidence based practice for all levels of staff, developing ways to reach out to parents and families of students with autism via internet and support groups, identifying staff who are "autism experts" to utilize as coaches, building capacity to identify students earlier, and brainstorming ways to create communication methods amongst the staff who work with students on the spectrum.
The start of the 2011-2012 school year is upon us and the ACE Technical Assistance Staff are looking forward to guiding these tireless teams as they strive for excellence for their students with autism and other disabilities.
Local Project SEARCH Effort Received Special Recognition at International Conference!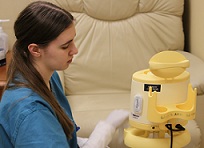 Bon Secours St. Mary's Hospital Project SEARCH received special recognition at the 2011 Project SEARCH International Conference in Minneapolis, Minnesota on July 12th. Each year Cincinnati Children's Hospital Project SEARCH holds an annual international conference and awards ceremony. They recognize all Project SEARCH sites that have 80% to 100% employment rates. In the Bon Secours St. Mary's Hospital project's first year (2009-2010), all 6 students were hired into positions within Bon Secours St. Mary's Hospital! Wes Thiss, St. Mary's Hospital Business Liaison for the Project, and Jennifer McDonough, VCU Project Director, were present to receive the award. Bon Secours St. Mary's Hospital Project SEARCH is unique from the other 200 replication sites. This site is a research site and requires that eligible students have Autism Spectrum Disorder to participate. The project is funded through the National Institute on Disability and Rehabilitation Research (NIDRR). VCU Rehabilitation Research and Training Center is funded to conduct the research and collaborates with Virginia Department of Rehabilitative Services, Cincinnati Children's Hospital Project SEARCH, and Henrico County Public Schools.