June 4, 2013
What Does the Recent Release of the DSM-5 Mean for Virginia Schools?
A message from John Eisenberg, M. Ed, Assistant Superintendent for Special Education and Student Services, Virginia Department of Education, on the recent release of the DSM 5…

Concerns have been raised by stakeholders regarding the release of the Diagnostic and Statistical Manual 5th Edition (DSM 5; American Psychological Association, In Press). Specifically, those concerned about the definition of Autism and related disorders have expressed concern regarding the impact that changes in the medical/psychological definition of Autism will have on special education services and eligibility. This message is meant to clarify the position of the Department of Education related to these changes and emphasize that changes in the DSM 5 should not influence educational eligibility or individual education program decisions.

Anticipated changes in the DSM-5 have resulted in questions pertaining to local evaluation and eligibility decision making processes in the area of autism spectrum disorders. The Virginia Regulations Governing Special Education Programs for Children with Disabilities (2010) contain specific eligibility criteria for each disability category and are not impacted by the upcoming release of the DSM-5.

The Virginia Department of Education has made no changes to current guidance for and procedures used by eligibility teams. All eligibility activity remains consistent with current procedures. Virginia Department of Education guidance documents continue to be located within the Virginia Department of Education website and are accessible here.

Eligibility teams should be reminded that a medical diagnosis or DSM category is not required by state regulation as part of an eligibility determination as a child with autism. Virginia provides specific eligibility criteria that must be followed. While the changes in the DSM-5 may result in changes to clinical or medical practice in Virginia, educational identification practices have not changed. VDOE Guidance on Evaluation and Eligibility for the Special Education Process (2009) highlights the distinction between educational identification and medical diagnosis.

Finally, IEP teams and Eligibility Committees should be reminded that the Virginia Regulations prohibit a student's educational identification or disability category from being changed or removed without parental consent (8VAC20-81-170.E.1.b). Regulations also prohibit "any revision to the child's IEP services" without informed parental consent (8VAC20-81-170.E.1.d).

For additional information on this topic contact Erin Smydra, VDOE Autism Specialist, by email at erin.smydra@doe.virginia.gov or by phone at (804) 371-7421.

For more information on the DSM-5, please visit the American Psychiatric Association website, this Factsheet on Autism Spectrum Disorder, and this summary article.
VA ABA Consortium – Second Cohort Starts this Month!
The VA ABA Consortium is excited to announce the beginning of its second cohort! From a large pool of applicants, the four participating college/universities, George Mason University, Lynchburg College, Old Dominion University, and Virginia Commonwealth University, selected 32 students to participate in the program starting in June 2013. Students will take the required six courses during the next year and will also be participating in supervised experiences. The coursework and supervision will allow students to be able to take the exam that leads to becoming a Board Certified Behavior Analyst. Participants in the first cohort of the VA ABA Consortium will successfully complete their coursework this fall.
Summer is a Great Time for Online Learning!
Space is still available in the VCU-ACE online course, Foundations of Autism Spectrum Disorders, starting on June 17th! This introductory course provides participants with an understanding of the primary characteristics of ASD, which include impairments in communication and social development and the presence of repetitive patterns of behavior. Secondary characteristics, including sensory processing differences and motor deficits, are also explored. The course discusses the impact ASD has on the person as well as the family unit and also provides an overview of learning styles, the history, cause, and early signs of ASD. Register today!
Great news! Registration limits have been expanded for the months of July and August for the online course, Autism Spectrum Disorders for Paraprofessionals: Providing Effective Instruction and Supports. VCU-ACE is pleased to continue to offer this course and expand sections to allow more people to access it this summer. Please check the PARAPro pages on the ACE website for more information and to register!

Registration is Open!
The Virginia Commonwealth University School of Education offers a Post Baccalaureate Certificate in Autism Spectrum Disorder. The four course sequence is designed to enhance knowledge and build skills in professionals who support a person with ASD. This includes special education and general education teachers, administrators, employment specialists, in-home therapists – anyone who wants to provide effective services! All courses are offered online to meet the needs of busy professionals! The first course, Understanding ASD, is offered Fall 2013. It provides a detailed overview of the characteristics of ASD throughout the lifespan and discusses key educational considerations as well as methods for evaluating practices and making sound intervention decisions. For more information please view the VCU School of Education website, or contact Dawn Hendricks, Ph.D. at drhendricks@vcu.edu.
Professional Learning Group in Newport News Focuses on Social Skills Instruction!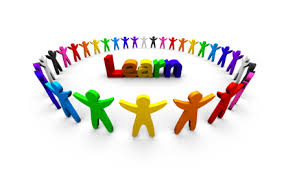 One of the main diagnosing characteristics of autism is "Clinically significant, persistent deficits in social communication and interactions" (APA- DSM-5, 2013). However, the way this presents in individuals varies. Often people on the spectrum are literal thinkers. Therefore, when it comes to language, some students with ASD have difficulty generalizing, discerning figures of speech, or decoding idioms. Literal thinking often makes picking up on the subtleties of sarcasm and humor difficult for people on the spectrum as well. Finally, people with ASD may use language or nonverbal aspects of communication in ways that are perceived different by others. For example, conversation may not follow a back-and-forth flow, but instead may be characterized by long pauses. The person with ASD may also talk animatedly for an extended period of time on a particular topic of interest without allowing any room for reply. Other difficulties around social skills may include inaccurate concept of personal space, problems with peer relationships, difficulty with eye contact, self-stimulating behavior, awkward gate, poor coordination, restricted facial expressions, mind blindness, and sensory input. These challenges make it difficult for many individuals with autism to make friends, be independent, and participate fully in school and life. To this end, social skill teaching, instructing, and training have become an area of focus for many school divisions across the commonwealth.

Newport News Public Schools has developed a professional learning group (PLC) to address the need of providing appropriate and comprehensive social skill opportunities and instruction for their middle and high school students with ASD. For the past few months this group, led by Wendy Clayton, Charlene Wentland, and Staci Carr, has met to explore, learn, and develop plans and protocols for implementing such programs. The three areas of focus for these groups are: Self-Determination, Relationships, and Skills needed for the Community. Within these three domains, the PLC teams are examining the discrete skills needed, how to teach and generalize the skills, and how to collect data to show progress. This thoughtful group has made great strides for the future of students in Newport News and their social skills needs.
VCU-ACE Shares Information at VCASE!
VCU-ACE was pleased to be an Exhibitor at the Virginia Council of Administrators of Special Education (VCASE) Spring Conference again this year. The three-day conference, Enhancing Student Outcomes, took place on May 22-24, 2013 in VA Beach. Becky Boswell, ACE Outreach Coordinator, shared resources and information about the many training opportunities VCU-ACE provides, including the PARAPro project. In addition, Noel Woolard, ACE Technical Assistance Associate, shared the work of the ACE State Goal Committee on ASD Performance Standards and Evaluation Criteria. This committee is developing resources and documents to support administrators in evaluating educational programs and the implementation of evidence-based practices and meaningful instruction for students with ASD. Thanks for the warm welcome at the beach VCASE!