News from Across Virginia
Chesapeake Makes Great Strides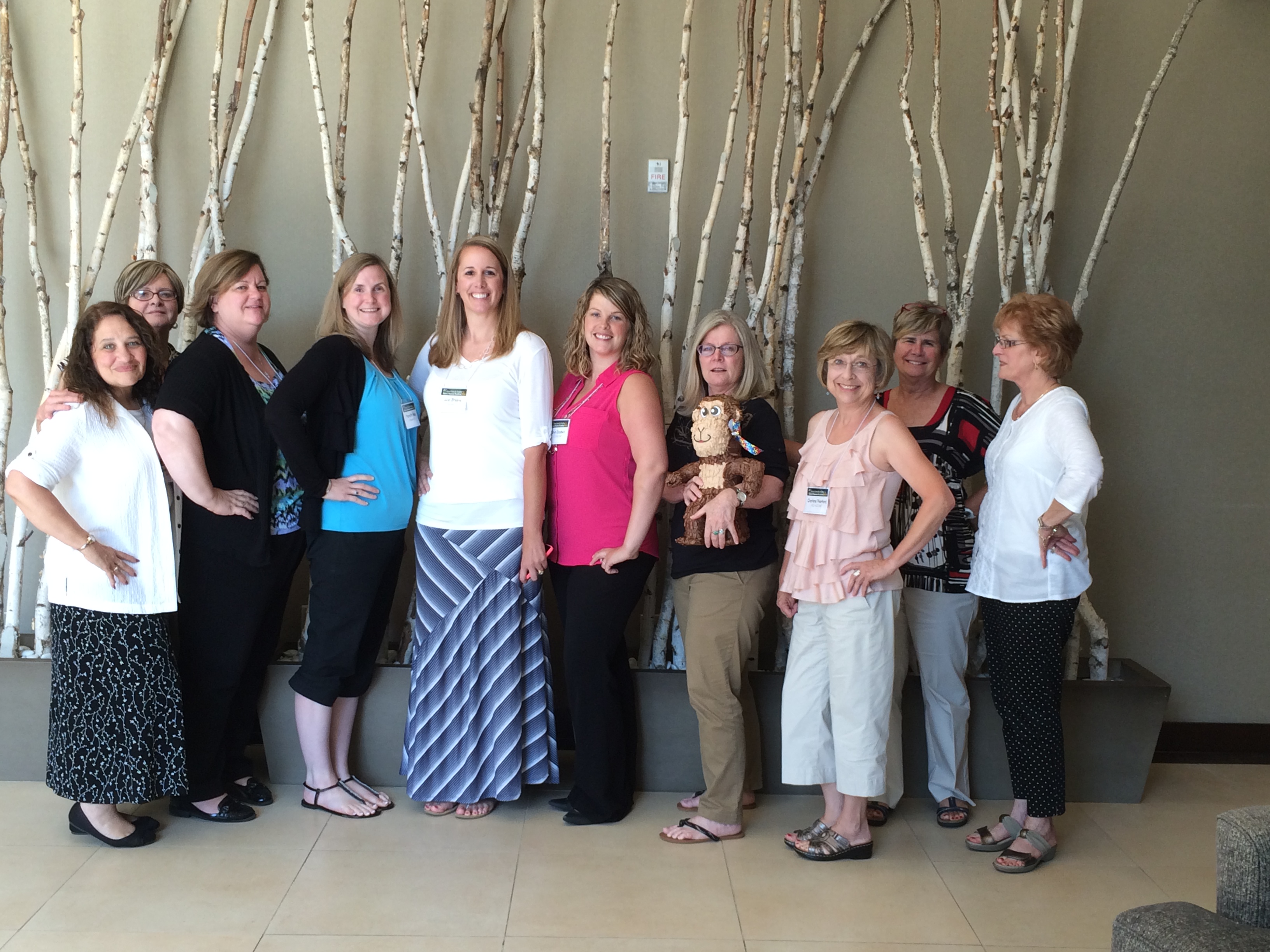 The Chesapeake Autism Service Improvement Team (ASIT) worked hard all summer developing their SIP (Service Improvement Plan) goals and looking deeply at where they are now and where they want to be in 5 to 7 years. As we move into the fall much has been accomplished to lay the groundwork for goal progress. Target classrooms have been identified for intensive assessment, coaching and training initiatives are in place for the 2014-2015 school year. Coaches have been identified and Coaches' training will take place on October 17, 2014. Subcommittees have been formed to serve as research and development teams for each of the 4 goal areas. Finally APERS (Autism Program Environment Rating Scale) assessments are planned for the target classrooms to begin this process. This team enjoys mixing pleasure with work! We have held planning meetings at fun and interesting venues – the Ocean View Fishing Pier, a member's living room with an extensive lunch buffet, and a local library/café.

Chesapeake's team members continue to evaluate their current infrastructures at the ground level, as well as the administrative level to strengthen our work on various initiatives. The team is dedicated to creating sustainable change in their division to support their teachers and increase student outcomes in communication, social skills, and transition.
The VCU ACE CoLA Summer Institute: Fulfilling and Refreshing!
Some of Virginia's brightest and most dedicated special education leaders convened in Richmond on June 25-26 to learn, collaborate, discuss, celebrate and plan to improve educational services and practices for their students with ASD at the Third Annual Communities of Learning in ASD (CoLA). These busy days started with welcomes from the two collaborators in the development of the CoLA Summer Institute, VDOE Training and Technical Assistance Center at VCU's Linda Oggel encouraged participants to engage to get the most from the experience, while VCU ACE's Carol Schall reminded participants that this event was designed for the advanced learner to engage with the content at the level they wanted. After that welcome, the participants attended sessions in 3 different tracks. Track one was designed to assist educational leaders to consider the needs of children and youth with ASD related to the development of curriculum and instruction. This track included seminars on Self Determination, Reading and Math Literacy, and Career Education and Employment. Track two, focused on the social communication needs of children and youth with ASD and featured sessions on enhancing communication development for young children with ASD, social skills instruction in two different school divisions, and bridging the gap between home and school to increase generalization. Finally, track three provided three sessions related to training and teaming for school divisions looking for creative ways to increase the skills of their educators. In this track, participants explored a "hybrid" approach to professional development including training, professional learning communities, and coaching, classroom consulting models that lead to deeper learning, and heard the story of how a small school division in Virginia instituted change to improve services for their children and youth with ASD.
In addition to these engaging and enlightening sessions, participants also attended a poster session that was full of buzz and excitement over the excellent programs that were on display. These posters displayed excellent ideas for individual students, classrooms and school divisions to address the needs of students with ASD. School divisions from across the Commonwealth showed that they are meeting the challenge of educating children and youth with posters on social skills instruction through drama, the Spotsylvania Gateway Model of education, training paraprofessional educators to support students with ASD and staff training and coaching to improve preschool services for children and youth with ASD to name a few. For the first time, The CoLA team employed a panel of independent judges to award certificates to two of the many deserving posters on display. Clarke County Public School's Poster entitled "Competent Learner Model" presented by Chrissy Welgan and Amanda Lambert were awarded the School Divisionwide Systems Change Poster Certificate while Tracey Scott's poster displaying "Using the Expanding Expressions Tool (EET) to Develop Social Language Skills in Students with ASD" poster was awarded the Individual Classroom Excellence Poster Certificate.
The CoLA Summer Institute was topped off by an engaging and fun presentation from Erin Smydra, Specialist for Autism, Intellectual Disabilities, and Assistive Technology from the Virginia Department of Education (VDOE) on updates on policy and special education from the VDOE. Finally, each of the regional CoLA teams had the opportunity to meet and plan topics for the coming year's regional CoLA meetings. Comments from the CoLA Summer Institute proclaimed it the best summer institute yet!
Cohort 2 Off to a Productive Start!
Since the six school divisions were selected earlier this year, our Technical Assistance and Training Associates have been busy working in each division completing baseline assessments to prepare for our recent Summer Academy. The Summer Academy for Cohort 2 consisted of two days, packed with intensive, division focused team facilitation. During this time, teams met in Richmond to review baseline data, develop vision, mission, and beliefs that address the unique aspects of the division, and conducted a gap analyses to ensure SMART (specific, measurable, achievable, relevant, and time-bound) goals.
Each division will have four to five goals in each of the following topic areas: Classroom Content, Classroom Evidence Based Practice, Policy and Procedure, and Division Coaching. While the goal areas are the same, the specific goals, initiatives, and action plans will vary by division.
Over this summer, school division Autism Service Improvement Teams (ASITs) have been meeting to continue their rigorous work on their goals, develop a list of training needs for their teams, and outline their plans for the upcoming year. Additionally, many ASITs have conducted meetings with division administrators to share their vision, mission, and beliefs, and to being to develop a partnership and collaboration to ultimately improve educational services for their students with Autism.
We would like to congratulate our Cohort 2 divisions (Alexandria City, Bedford, Chesapeake City, Franklin, Spotsylvania, and Warren) for their focused work at the Summer Academy and their "Hit the Ground Running" attitude that they have demonstrated over the spring and summer. We look forward to the 2014-2015 school year!