Regional Communities of Learning
Regions will receive technical assistance through the development and facilitation of Communities of Learning in Autism (CoLAs). Communities of Learning provide communities the opportunity to share information and experiences. This allows members to learn from each other, and have an opportunity to develop personally and professionally.
What happens in a CoLA?
Members share a common interest in the improvement of service delivery and use of evidence based practice for students with ASD.
Members create a strong community that fosters trust and encourages collaboration and sharing.
Members develop a core of knowledge through skill development, problem solving, information and resource acquisition, and skill integration using both collaborative and self-directed learning activities.
VCU-ACE will develop and facilitate Communities of Learning in Autism within each Superintendent's Region. A VCU-ACE Technical Assistance Associate will work with regional representatives from the VA Department of Education (VDOE) TTAC's and school division based leaders within each region to build such learning communities. Communities of Learning will be tailored to the needs of the region based upon the areas targeted for growth by the members of the group. The members of the Communities of Learning will be comprised of the region's leaders in service delivery for students with autism. This includes autism specialists, instructional specialists, master teachers and individuals in administrative or quasi-administrative roles who provide in-division consultation and support to teachers with caseloads and/or classrooms.
Calling all school divisions! If you are interested in learning more about the Community of Learning in Autism (CoLA) in your region, please determine your region below and contact the Technical Assistance Associate listed.
Find Your Region
Option 1: Click on the portion of the map below that contains your city or county to receive information about your VDOE region.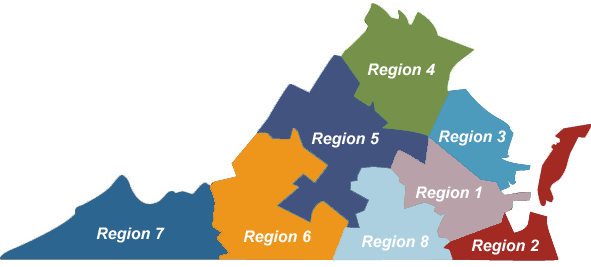 Option 2: Choose your city or county from the following dropdown list. Then click the link that appears for information about your region.
The VCU ACE CoLA Summer Institute: Fulfilling and Refreshing!
Some of Virginia's brightest and most dedicated special education leaders convened in Richmond on June 25-26 to learn, collaborate, discuss, celebrate and plan to improve educational services and practices for their students with ASD at the Third Annual Communities of Learning in ASD (CoLA). These busy days started with welcomes from the two collaborators in the development of the CoLA Summer Institute, VDOE Training and Technical Assistance Center at VCU's Linda Oggel encouraged participants to engage to get the most from the experience, while VCU ACE's Carol Schall reminded participants that this event was designed for the advanced learner to engage with the content at the level they wanted. After that welcome, the participants attended sessions in 3 different tracks. Track one was designed to assist educational leaders to consider the needs of children and youth with ASD related to the development of curriculum and instruction. This track included seminars on Self Determination, Reading and Math Literacy, and Career Education and Employment. Track two, focused on the social communication needs of children and youth with ASD and featured sessions on enhancing communication development for young children with ASD, social skills instruction in two different school divisions, and bridging the gap between home and school to increase generalization. Finally, track three provided three sessions related to training and teaming for school divisions looking for creative ways to increase the skills of their educators. In this track, participants explored a "hybrid" approach to professional development including training, professional learning communities, and coaching, classroom consulting models that lead to deeper learning, and heard the story of how a small school division in Virginia instituted change to improve services for their children and youth with ASD.
In addition to these engaging and enlightening sessions, participants also attended a poster session that was full of buzz and excitement over the excellent programs that were on display. These posters displayed excellent ideas for individual students, classrooms and school divisions to address the needs of students with ASD. School divisions from across the Commonwealth showed that they are meeting the challenge of educating children and youth with posters on social skills instruction through drama, the Spotsylvania Gateway Model of education, training paraprofessional educators to support students with ASD and staff training and coaching to improve preschool services for children and youth with ASD to name a few. For the first time, The CoLA team employed a panel of independent judges to award certificates to two of the many deserving posters on display. Clarke County Public School's Poster entitled "Competent Learner Model" presented by Chrissy Welgan and Amanda Lambert were awarded the School Divisionwide Systems Change Poster Certificate while Tracey Scott's poster displaying "Using the Expanding Expressions Tool (EET) to Develop Social Language Skills in Students with ASD" poster was awarded the Individual Classroom Excellence Poster Certificate.
The CoLA Summer Institute was topped off by an engaging and fun presentation from Erin Smydra, Specialist for Autism, Intellectual Disabilities, and Assistive Technology from the Virginia Department of Education (VDOE) on updates on policy and special education from the VDOE. Finally, each of the regional CoLA teams had the opportunity to meet and plan topics for the coming year's regional CoLA meetings. Comments from the CoLA Summer Institute proclaimed it the best summer institute yet!
For more information on CoLAs, please contact Wendy Kulpa at wakulpa@vcu.edu.